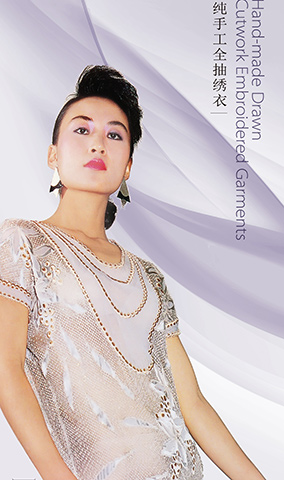 Company Profile
TAIZHOU YUNZHI EMBROIDERED GARMENTS FACTORY
Taizhou Yunzhi Embroidered Garments Factory, formerly known as the Level II state- owned Taizhou Embroidered Garments Factory of Zhejiang Province, was established in 1997 following a management restructuring process. The leaders at every level and the production line workers, however, remained the same.

Taizhou Yunzhi Embroidered Garments Factory's professional technical team has been strengthened over the business's 60-year-long history. The team, with its exquisite sewing skills and top-notch technical expertise, is considered first rate in the industry. An extensive range of equipment includes all kinds of hi-tech and latest-generation garment making machines. The factory's traditional cutwork products are internationally renowned and have won multiple awards both at home and abroad.

Taizhou Yunzhi Embroidered Garments Factory is a production specialist for all kinds of high-end silk apparel such as ready-to-wear, nightshirts, robes, and nightgowns. The most recent fashion collections using cutwork, drawn work, and plate carving embroidery are greatly appreciated by industry experts.

To promote the Taizhou embroidery culture and continue the company's heritage, the Taizhou Embroidered Garments Museum was founded in 2013 and officially ?opened in May 2015. The factory was granted status as a Taizhou training base for the propagation of intangible cultural heritage by both the Taizhou Education Bureau and the Taizhou Administration for Culture, Radio, TV, and News. In June 2015, the CNTAC (China National Textile and Apparel Council), CTIC (China Textile Information Center), and CTDC (China Technology Development Group) all named the factory as a national development base for cutwork products.

With the Taizhou Embroidery Research Institute research and innovation platform, the company brings together technical research, new styles, visionary design, product development, production, and sales in one location. Taizhou Yunzhi Embroidered Garments adheres to the principle that "character determines quality and good quality attracts customers" and pays close attention to the research and development of new products and the innovation and updating of techniques and skills.

The company has been a trusted, reliable supplier to Italian brand La Perla for over 30 years and has established long-term business relationships with luxury brands such as Olivia von Halle (UK), Marjolaine (FR), Luna di Seta (IT), Wacoal (JP), Aimer (CN), Ordifen (CN), Maniform (CN), Embry Form (CN), and others.